Owner's profile
I have been actively working in the residential and commercial real estate sector for more than 12 years. During this time, I have been directly involved in the sale and leasing of hundreds of properties on behalf of owners and occupiers. Thanks to this extensive track record, I have developed an outstanding, all round understanding and deep knowledge of the property market, primarily in Prague, with a special focus on the luxury segment. Over the years, I have also managed to develop a good understanding of clients´ needs and how best to match them with the available and potential supply. By offering real estate services together with design, I offer a complete range of services and turnkey solutions that are still missing among many service providers in the market. Having a single point of contact and an experienced professional that is dedicated to supporting you in finding and delivering what you need, saves you both time and money.
I graduated in economics. And at the age of 18, I went to England to study English and work as an au-pair. I spent a few years working as a personal assistant but my ambitions pushed me into sales where I could finally utilize my full potential. I am organized and a perfectionist with a sense for details. During the 10 years I spent working for one of the biggest, local residential real estate companies in Czech, I studied at Open University and achieved my Diploma in Management. In 2007, I received my MBA from the Brno International Business School, affiliated to Nottingham Trent University.
I also hold a diploma for interior design from the Home Staging Academy of Jitka Kobzová.
I consider myself as being business oriented, with a sense for details, vision, beauty and elegance.
The biggest influence on my passion for design comes from my mother, who is a fashion designer and dressmaker. She encouraged me to create my own designs and helped me to realize them.
In my free time I still love to create fashion designs and assist my mother with realizing them. I love to watch fashion shows, programmes about architecture and I appreciate and admire elegance in every way.
Due to my love for animals, I sponsor cat shelters. You can contribute too.
www.kocky-utulek.cz
With kind regards

Dagmar (Zárubová) Sabongui
Director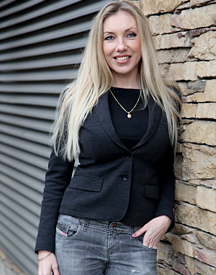 Dagmar (Zárubová) Sabongui